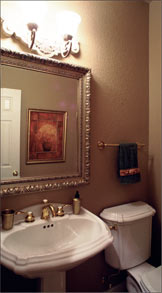 For Happel, the advantages to design-build are clear.
"With the typical client, we can save 30 to 40 percent on their design costs over an architect," said Happel. But design-build, which now accounts for about half of H & H business, offers more than just cost-savings, Happel said.
"The primary advantage of designbuild is that our clients find out early on – very quickly – if they can afford the project they have in mind," he said.
Eliminating the guesswork about pricing is important, Happel said. While architects and designers can provide rough estimates, H & H brings the builder's perspective to provide a clearer picture of a project's budget.
"They will know that we can build the project for the price that we give them," he said. In fact, H & H has so much experience in pricing, it can often provide ballpark figures after a simple phone interview, Happel said.
"On most projects, we can give people an estimate after the initial phone interview," he said. "While we can't be exact, we can certainly tell them this is a $100,000 job, not a $50,000 job."
H & H can also use its building expertise to find the right match between budget and design. "Our designs are really aimed at meeting a budget," Happel said. "The client has much more control over the final costs."